[wprunkeeper activity="75318185″]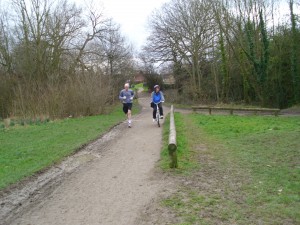 Last week was my birthday and I thought I would "pop" home to England to visit my parents and my sister came up to see me. I was really excited about running in the UK until I saw some of the elevations on the runkeeper plans.  I made contact with a runner in the UK near my parents house but found that the Wingerworth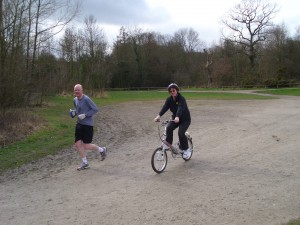 Wobblers run at precisely the same time my sister was coming up on the train so unfortunately I was not able to join them.
However my sister was looking forward to joining me as I ran but as she is not a runner she was going to borrow dad's (folding) bike.  Saturday I planned to do an 8mile run and so we decided to run along a nearby park path that w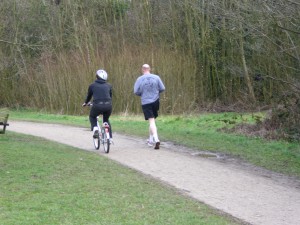 as about a 2 mile loop.  The weather was perfect and it was nice to have someone to hold the water and pass me a couple of energy sweets every now again.  Unfortunately for her I think the saddle was not too comfortable but she did a good job keeping up with me. Mum and Dad came down to the park to take some photos of the two of us (thanks Dad!). It was nice running on a dirt path rather than the hard surfaces that I'd run on in the US and it was nice to have my first international run in the UK and spend the time with my sister so a great first run.  It was also my longest run yet of 8 miles and the average speed for this distance came in at a decent 10.5 minutes for me so I'm very pleased.
After the run it was time for a quick shower and then off to a Toby Carvery for a huge dinner – well worth the run 🙂