[wprunkeeper activity="94178590″]A week ago I gave into peer pressure from other Thursday Turtlers, and registered for the oldest road race in Columbus – the 35th Columbus 10k run that also included pancakes ad sausage afterwards (which may or may not have had some bearing in the decision to take part.
After getting up at 6am I was trying to work out whether to have coffee or not as the hot coffee would not help to cool me down.  However I decided to grab some coffee before leaving the house – As it turn out, I really did *need* coffee as I poured cold water out from the kettle. Next time I'll have to be awake enough to turn it on.  Thankfully I did realise before taking a sip of coffee.
I arrived early at the site and enjoyed people watching and chatting with the various runners from the CRC pacers groups and slathered on the sunscreen ready for the race as it was going to be hot.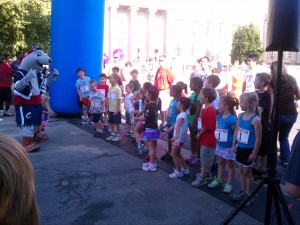 Before we started they had the kids race – it was really neat and impressive to see the kids run this race.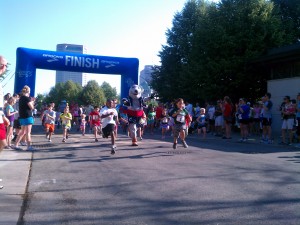 Even funnier to see some of the dads carrying the kids over the finishing line whilst the kids bawled their eyes out.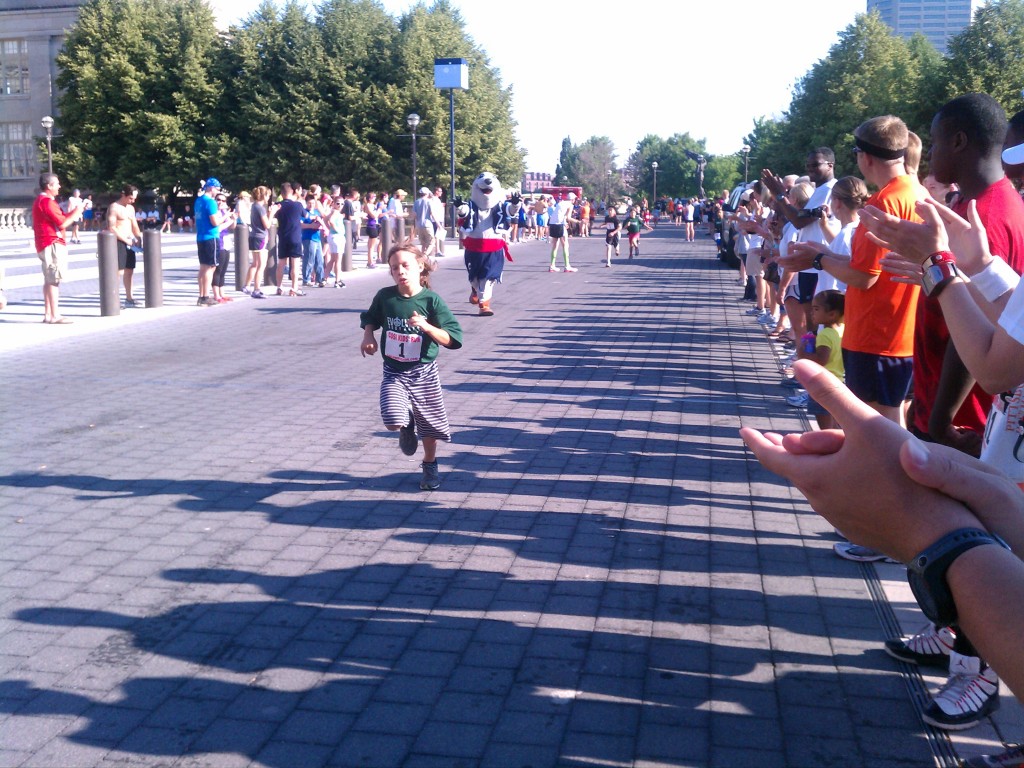 Standing in the crowd as we waited to start, I could feel the heat beating down. I was lined up between the 9 and 10min pace groups as there wasn't a 9.30 pacer and wasn't sure what pace I was going to actually run. I had checked a pace calculator and knew that to beat my previous 10k run on 59.11 I needed to do a 9.30pace so decided I'd start out with the 9 min pace.
We started off running south which meant that the run *up* Broad Street was longer than I thought and had done in the past and I was really pleased when we headed on down Front Street and were able to take advantage of the shade offered by the buildings. Looking at the Runkeeper Map its quite funny to see it has no idea where we were running – looks like a drunk ghost wobbling through the downtown buildings.
I was able to keep up with the 9pacer until the water stop at 2miles but as he was currently running under the 9min pace I decided to just let them go, dumped more water on my head and then turned left to head down the shadeless 1st Ave.This pattern continued along the race – taking water at the water stop, drinking about half and then dumping the rest on my head to cool down.
After mile 3 we ran the rest of the way back on the Olentangy trail, a route that has far too may ups and downs and stretches without shade so my pace dropped a bit as I tried to keep cool – I was glad I had taken my own water with me. It was quite suprising to see a Cop car come driving down the trail towards us – normally you just have to look out for bikes on the path – first time I've had to look out for a car.
Mile 5 onwards was the standard Scioto Miles run so I knew where I was going and what to look forward to. However at mile 6 the marker was missing so I wasn't really sure when to start the sprint towards the end. Probably just as well as I was thinking the run was 6.1 miles and not the 6.2 and would have started early. As it was I got a good sprint in at the end – I could hear Jamie and her cowbell ringing away but didn't have the time to look around to see where she was.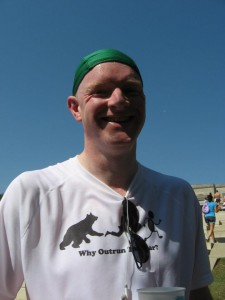 I hit the finish line in 58 *something and it was cool to have a kid come running up to me with some water to cool down and hear several people shouting congrats to me. I had no idea who they were but it felt really good. Thanks to Jamie for taking a photo after the race.
After taking some time to cool down in a malfunctioning hose that acted as a sprinkler (good find Melanie and Mike) I went up and got my sausage and pancakes and a banana. Tasted *really* good – a definite bonus to running this race.
Hanging out with the other runners was fun to congratulate people as they came in, with Chris getting a 2nd place in her age group – so congrats to her. Then it was time to line up with other cbus runners for a group photo – I have a strong suspicion I'll be in the cbus pacers newsletter again 😉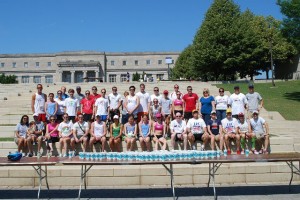 The other weird thing is that although I felt fine during the run and didn't notice anything – I've had my first case of wishing I had Bodyglide when walking around the house this afternoon. I guess it's better to have it now rather than mile 6 on a marathon, but it's weird that I've never needed it before.
Official Times
58:25.1
329/589 (Top 50% now!)
31/41 M40-44
Pace: 9.28/mile
Splits
| | | |
| --- | --- | --- |
| mi | Pace (min/mi) | Elevation (ft) |
| 1 | 9:10 | 27 |
| 2 | 8:58 | 2 |
| 3 | 9:16 | -20 |
| 4 | 9:25 | -26 |
| 5 | 9:46 | 1 |
| 6 | 10:15 | -6 |
| 7 | 7:04 | -5 |